gumi Inc announces the launch a series of in-game events this Autumn.
From August 28 to September 25, 2019, Summoners are in for a series of Autumn events all happening in Grand Gaia.
Here is what Summoners can look-out for:
Brave Autumn Festival 2019 Login Campaign (August 29 – September 25, 2019)
Log in daily during the Brave Autumn Festival 2019 and earn exceptional rewards:
Up to 9 Gems
Up to 3,300 Duilleagan Tokens
Elemental Golems
And many more!
Brave Autumn Festival 2019 Unit of Choice (UoC Campaign) (August 29 – September 25, 2019)
The Summer heat is gone and it is time to gather around to prepare for the cold. More hands will be needed and thus Brave Frontier is giving away one (1) free unit of Summoner's choice.
To receive this, all that Summoners have to do is log-in to Brave Frontier for twenty-one (21) days and they will get to choose a unit they have always wanted.
UoC features Raid Class 7 units:
Hakuzo, Giselle, Vrana, Katerin, Czorag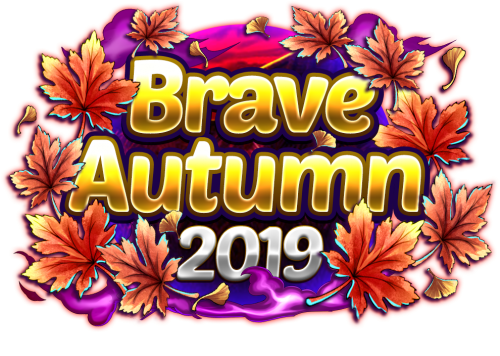 Autumn Dungeon: Re: Generations  (August 29 – September 25, 2019)
In modern times, the descendants of the druids have renounced their bestial ways for civilization. Feòra, a moody, teenaged beastkin, takes a walk on the wild side when she encounters Hyshka, an aspirant of the Old Ways. Can this unlikely duo bridge the cultural gap to solve the woes of the woods?
Frolic in the forest dungeons to collect Duilleagan Tokens, and grab this chance to obtain a first mission clear Gem!
Re-Run Moonlight Harvest Dungeon (September 11 – September 25, 2019)
It is said that every autumn in Aimyhr, a moon fairy descends upon the land to revel among the mortals during the annual Harvest Festival. As you stroll through the forests, you encounter a strange girl named QiuTong, who beckons you over for a round of games!
Gain various materials as rewards from playing "Autumn's Moonlight" and "Rabbit Chase!" in order to craft a unique sphere – "Gibbous Trinket", that is only available from this dungeon!
Autumn Bazaar  (August 29 – September 25, 2019)
Head over to the Bazaar and exchange Duilleagan tokens with new seasonal units:
Elgifs – 8★ Natural Order and 7★ Unfaltering Oak!
Summoners can collect Duilleagan tokens from playing events, "Hornet's Nest" and "Clean-Up Crew".
Free Special Unit this Autumn  (August 29 – September 25, 2019)
Being the youngest member alive today who has not moved out of the tribe and divorced from the Old Ways. It was peculiar that a man of his generation in this day and time would so willingly choose to preserve such antiquated culture.
Hyshka's belief in the balance between nature and humanity is born from a heartfelt appreciation of the ancients and their contributions to shaping the modern world, instead of condemning them to the mists of a half-forgotten memory. However, just how he intends to do this was something he had not pondered on…until a certain girl with an oversized spiked bat and an attitude to match came stumbling into the woods.
Recruit Hyshka into your team by logging-in daily or exchanging Duilleagan tokens at the Autumn Bazar from August 29 to September 25, 2019.
Brave Frontier is available for download globally on iOS, Android, Amazon, and Windows Phone devices.
Brave Frontier updates are available on:
About Brave Frontier
Explore the land of Grand Gaia and save it from the evil hordes of the corrupted gods in this epic mobile role-playing game. As a powerful Summoner, you have the ability to conjure powerful demigods, brave warriors, and majestic beasts to fight for you! Brave Frontier features over 500 legendary heroes and beasts to collect and evolve; an addictive-yet-simple turn-based action-packed combat system, and hundreds of missions including ongoing weekly challenges and special dungeons.