Razer announced the Razer Naga Trinity gaming mouse and Razer Tartarus V2 gaming keypad. The customizable mouse and keypad can adapt to a wide range of games and playstyles, particularly Multiplayer Online Battle Arena (MOBA) and Massive Multiplayer Online (MMO) games.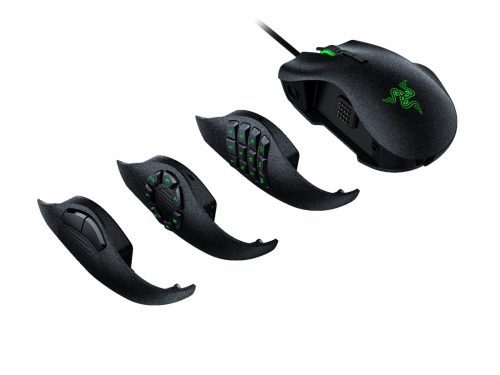 The Razer Naga Trinity, the ninth iteration of the best-selling Razer Naga family, is a modular mouse featuring three interchangeable side plates. Users can opt for the iconic original 12-button thumb grid of the Razer Naga Chroma designed for MMO games like "World of Warcraft™", or the seven-button thumb wheel of the Razer Naga Hex V2 for MOBA and hack-and-slash titles like "Heroes of the Storm™" and "Diablo III™." A new two-button configuration completes the trifecta, sporting a minimalistic feel that is perfect for general use.
When using the 12-button configuration, gamers will have up to 19 programmable keys for customization.
The Razer Naga Trinity also comes equipped with an improved sensor over its predecessors, featuring a 5G, true 16,000 dots-per-inch (DPI) optical sensor with 450 IPS for faster and more accurate mouse movements.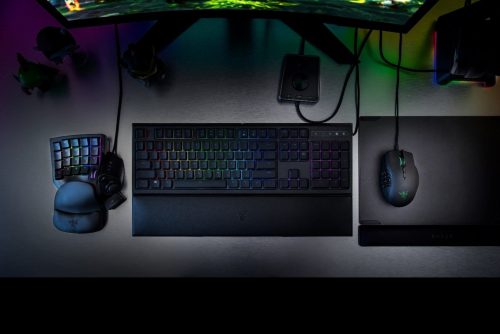 For even greater game control at your fingertips, gamers can also own the Razer Tartarus V2. The new ergonomic gaming keypad has 32 fully programmable keys (seven more keys than its predecessor) and features Razer's Mecha-Membrane key technology that offers both a soft, cushioned touch and a crisp, tactile click with each keystroke.
Users can further expand commands with the eight-way directional thumbpad and three-way scroll wheel, enabling full reign of movement and endless spell combinations. Existing commands may be doubled using Razer's Hypershift mode, which opens a secondary set of commands for macros, windows shortcuts, and everything else that can be layered on top of your current settings. Multiple personalized gaming profiles can be created and saved in the cloud via Razer Synapse 3 (Beta) Cloud Storage.
The Razer Naga Trinity and Razer Tartarus V2 are also Powered by Razer Chroma™, with up to 16.8 million color options. Button remapping, surface calibration and Razer Chroma lighting effects are all configured and controlled via Razer Synapse 3 (Beta). Many popular games allow for Razer Chroma lighting integration, as well as tutorials, in-game actions and other interactive developer effects.
The mouse and keypad are available on RazerStore.com in Q4 2017.
Razer Naga Trinity
Modular MOBA/MMO gaming mouse
Price: U.S. $99.99 / EU €119.99
Availability:
Worldwide: From Q1 2018
Product features:
3 interchangeable side plates

2-button Razer™ Mechanical Mouse Switches plate
7-button Razer Mechanical Mouse Switches thumb wheel plate
12-button Razer Mechanical Mouse Switches thumb grid plate

Total of 19 MOBA / MMO optimized programmable buttons
Rubberized thumb grip
True 16,000 DPI 5G optical sensor
Tilt-click scroll wheel
Razer Chroma™ lighting with 16.8 million customizable color options
Inter-device color synchronization
Up to 410 inches per second / 50 G acceleration
1000 Hz Ultrapolling / 1 ms response time
Zero-acoustic Ultraslick mouse feet
Razer Synapse 3 enabled
2.1 m / 7 ft braided fiber USB cable
Approximate size: 119 mm / 4.69 in. (Length) x 74 mm / 2.93 in. (Width) x 43 mm / 1.69 in. (Height)
Approximate weight: 120 g / 0.26 lbs. with cable
Razer Tartarus V2
Price: U.S. $79.99 / EU €89.99
Availability:
Worldwide: Q4 2017
Product features:
Razer™ Mecha-Membrane Technology
32 fully programmable keys
Programmable 8-way directional thumbpad & scrollwheel
Full anti-ghosting
Unlimited macro lengths
Unlimited game profiles
1000Hz Ultrapolling
Ergonomic palm rest
Hypershift mode for expanded commands
Razer Synapse 3 enabled
2.1 m / 7 ft braided fiber USB cable
Approximate size: 203 mm / 7.99 in. (Length) x 153 mm / 6.02 in. (Width) x 60 mm / 2.36 in. (Height)
Approximate weight: 348 g / 0.76 lbs. with cable