Like a flash of late-summer lightning with a very recognizable signature red hue, Thrustmaster has revealed its first Scuderia Ferrari gaming headset: the T.Racing Scuderia Ferrari Edition.
The best things in life are worth waiting for. This meticulously crafted headset will delight fans of the Scuderia Ferrari F1 team as well as racing fans and players who also want to be part of the Ferrari universe.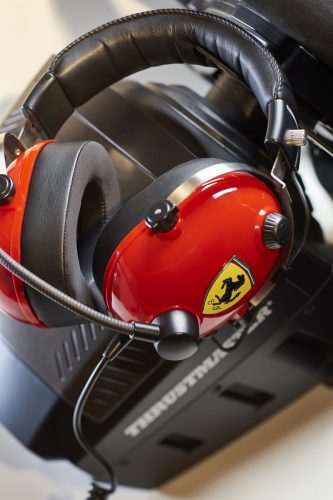 Design excellence
Designed with the famous "Rosso Corsa" color, the new T.Racing Scuderia Ferrari Edition is more than a simple gaming headset. The design, inspired by the Scuderia Ferrari paddock, is the fruit of a long and painstaking development process. Its metal headband reinforces the realistic appearance and ensures a long lifespan for the headset, while the leather padding provides a beautiful aesthetic finish.
Performance that meets Scuderia Ferrari's high standards.
As elegant as it is, this headset is just as powerful built according to very precise criteria. It directly addresses very specific issues that racing gamers and real-world drivers frequently encounter on the track. Thrustmaster's main priority is to offer sound fidelity. The main objective they set for themselves when designing this headset was to capture and convey the sensation of the road and racing environment.
Acoustic balance has been made possible by the frequency response curve: it is finely balanced between bass, midrange and treble. What's more, the implementation of 50 mm/2" drivers allows the reproduction of clear sound without saturation, while the sound pressure level (116dbSPL) prevents distortion (distortion rate of ≤1%).
The T.Racing Scuderia Ferrari Edition also features unidirectional microphone designed to target your voice only. It will ensure effective communication with your teammates. The microphone is detachable and adjusts to fit all head shapes.
Thoughtful design
Careful selection of the different individual components, both with regards to functionality and design, gives the headset a light feel and high-quality passive isolation. The memory foam ear cushions and gel inserts ensure a perfect fit for every ear and provide unequaled comfort for marathon races that last until the sun comes up.
One of the practical stand-out features of the T.Racing Scuderia Ferrari Edition is the convenient on-ear volume control via a realistic knob on the left ear cup. The microphone volume can be adjusted from a compact and lightweight in-line controller for quick access and to avoid distractions during a race.
Box contents:
Headset with in-line controller
Microphone
Protective cap for microphone connector
User manual and warranty information
The T.Racing Scuderia Ferrari edition will be available for sale from November 20, 2018.