Hand-drawn fantasy characters come to life in a massive Season Two update for LYN: The Lightbringer, the new story-driven role-playing game (RPG) from NEXON Korea Corporation, subsidiary of NEXON Co., Ltd. ("Nexon") (3659.TO), a worldwide leader in free-to-play online and mobile games. Beginning today, mobile players worldwide can download and warp into the extensive content update on the App Store and Google Play.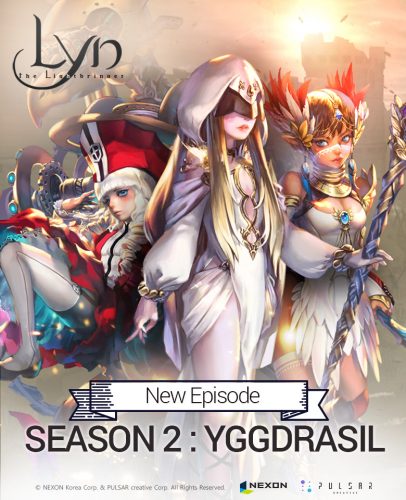 Jeong Juno, best known for his work on Lineage 2, teams up with the publishers at Nexon to paint LYN: The Lightbringer's enchanted world. LYN: The Lightbringer boasts an intriguing and collectable cast of 3D-rendered models inspired by Jeong's hand-drawn artwork. In this stunning role-playing game, players take control of brave hero Jean to explore the treacherous realm of the godlike Daeva. LYN: The Lightbringer Season Two is also adding an unprecedented roster of new features, including:
Thrilling New Area – The treacherous Yggdrasil area beckons only the most daring players. In this all-new Season Two episode, Leora fights back against demons seeking the Element of Creation while Jean's Reaper powers awaken;
Fresh Voiceover – For the first time ever, riveting LYN: The Lightbringer cutscenes have been dubbed with English voiceovers;
Mysterious New Characters – Sheila, Adorra and Stihille join the fray of enchanted heroes to fight in LYN's premiere chain-combo system;
Development System – The Gear Transcendence development system is now available for players to further reinforce their characters;
Season Two Festivities – To celebrate Season Two, players can log in to participate in exclusive giveaways to win four-star grade Legendary heroes and six-star grade Legendary equipment.
The latest LYN: The Lightbringer content update is available now to download for free on the App Store and Google Play.