One year ago Old School RuneScape made its debut on mobile devices and to celebrate its first birthday a new in-game event enables players to join the festivities and grab a slice of virtual birthday cake from the courtyard in Varrock, one of the game's largest cities.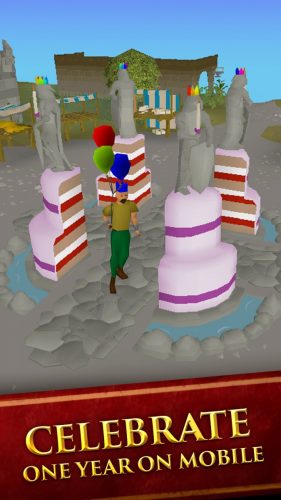 Rob Hendry, Executive Producer of Old School RuneScape, said:
"We're cooking up a storm with our first birthday cake event today and invite all players to come and get a slice of the celebratory action. The past 12 months have been hugely successful for Old School RuneScape on mobile, with more than 8million installs and winning a prestigious BAFTA award, which really was the icing on the cake.
"We have big plans for the next 12 months, including the Morytania Expansion, opening the vampyre city of Darkmeyer for the first time, and the introduction of a new game mode, 'Leagues', which begins this November with 'Twisted League'. As we celebrate the game's first cake-filled birthday, Old School RuneScape on mobile has definitely proven itself to be a recipe for success."
Pioneering the full MMO experience on mobile, complete with cross-platform play between mobile and PC editions, Old School RuneScape has seen more than 8million installs since launch. This year, the game won both the BAFTA Audience Award for the 'EE Mobile Game of the Year' and the Develop Star award for 'Best Mobile Game'.
At launch in 2018, Old School RuneScape led the charge as Jagex set out to bring two of the world's most popular MMOs to the world's most popular gaming devices. This week Jagex launched RuneScape Mobile in Early Access, enabling every Old School or RuneScape subscriber to enjoy the entire living game on Android. and iOS