Fans can fight for control of the universe alongside virtual star Hatsune Miku in a massive crossover event for Overhit, the widely-popular turn-based action role-playing game (RPG) from NEXON Korea Corporation.The Overhit x Hatsune Miku crossover event is available now on the App Store and Google Play.
Hatsune Miku is a virtual singer – "music software" developed in 2007 by Crypton Future Media that allows users to create music by typing lyrics and melodies. As a virtual singer, Hatsune Miku continues to gain global popularity through hosting concerts and more.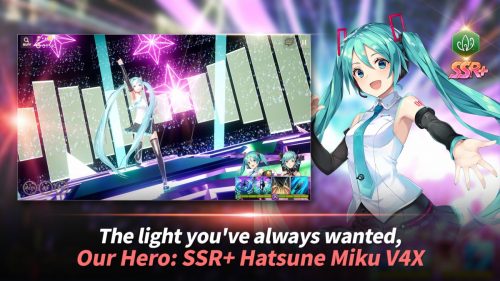 Overhit x Hatsune Miku collaboration delivers a myriad of additional special features including:
SSR+ Hatsune Miku V4X – For the first time ever, Overhit players can utilize Hatsune Miku's powers. Hatsune Miku V4X arrives as a powerful Wind-Type hero whose beautiful voice attracts nefarious enemies
Hatsune Miku's Event Dungeon – For a limited time, players can test their skills at three levels against the Hatsune Miku event dungeon to earn exclusive rewards and experience all Hatsune Miku's cutscenes
Themed Chance Boosts – From now until Monday, Nov. 14, players can utilize the special Hatsune Miku chance boost gacha
In addition to the Hatsune Miku collaboration, today's massive Overhit content update also delivers these new features:
Guild Wars – In this all-out guild vs guild battle, teams head to head to earn higher ranks and unlock exclusive rewards. Guild ranks reset every four weeks at the beginning of the new season
Guide Mission Renewal – Beginning today, all existing Guide Mission challenges have been replaced with a new wave of missions for players to complete
New Sub-Leader Skills – Players can now clear difficult challenges with combining two leader skills to enjoy a variety of tactical encounters
Additional Pendants – More pendants are available to collect in the Spacetime Rift depending on the selected difficulty
Fresh Events – Players can participate in new seven-day Attendance Events and the Hero Growth Support Event for Wind-Type Heroes for exclusive rewards
In Overhit, players are invited to command the Black Wings resistance army packed with characters from across time and space. A cast of more than 120 unforgettable heroes voiced by world-renowned anime voice actors such as Ishikawa Kaito, Uchida Aya and Morikawa Toiyuki take charge in a gorgeous world with console-inspired 3D backgrounds.
The Hatsune Miku special events are available today in Overhit for iOS and Android.