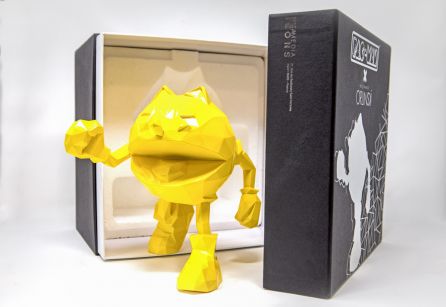 PAC-MAN, one of the world's most iconic pop-culture figures has been immortalized by another legend, the famous artist Orlinski. This collaboration has culminated into an unique piece of art which we are now making it available to purchase for everyone. This new edition will be available in two colors:  the yellow PAC-MAN displaying his traditional yellow color and the never seen before black PAC-MAN.
Available to pre-order here: https://store.bandainamcoent.eu/uk/
Features:
·   Creator: Richard Orlinski
·   Height: 18 cm
·   Material: Resin and gloss finish
About PAC-MAN:
In 1980, Toru Iwatani was eating a pizza when he came up with an idea for the shape of the famous PAC-MAN character. Great successes often come from simple ideas, when Mr. Iwatani invented the now famous yellow character, he couldn't imagine that he just created one of the most influential video games of all time.
About Richard Orlinski:
Richard Orlinski, the bestselling French contemporary artist who's art can be seen in more than 90 galleries all over the world and in the numerous art fairs he is invited to. Nevertheless, he wants to make art accessible to the greatest possible number of people and breaks codes by exhibiting sometimes outside and for free. Whether it is at the top of the slopes like in Courchevel or Val d'Isères in the French Alps or in cities like Paris or Saulieu, he likes to settle in typical places in order to meet the audience.