Razer™, the leading global lifestyle brand for gamers, announced the launch of the Razer Raiju Mobile and Razer Hammerhead USB-C ANC along with its brand-new Razer Phone 2 – completing the mobile entertainment and gaming experience.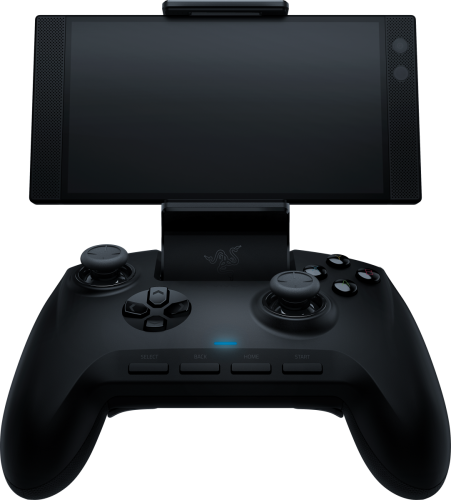 RAZER RAIJU MOBILE
The Raiju Mobile controller is a mobile gamepad with a phone mount and Bluetooth connectivity that brings a full-fledged console gamepad to mobile gaming. Featuring four remappable multi-function buttons, Razer™ Mecha-Tactile action buttons, a hair trigger mode and an adjustable phone mount, gamers get enhanced precision and perfect viewing angles for their favorite mobile games.
A mobile configurator app allows advanced customization for a personalized setup. The Razer Raiju Mobile supports flagship Android phones and the biggest titles in mobile gaming, which include "Vainglory," "Lineage 2," "Dead Trigger 2" and "Gear-Club," and many more.
RAZER HAMMERHEAD USB-C ANC
The Razer Hammerhead USB-C ANC in-ear headset delivers superior immersion on-the-go in a small, discreet form factor. It draws power for its Active Noise Cancellation (ANC) technology though the USB-C port on your smartphone. This enables the noise cancellation capabilities of larger headsets without the bulk.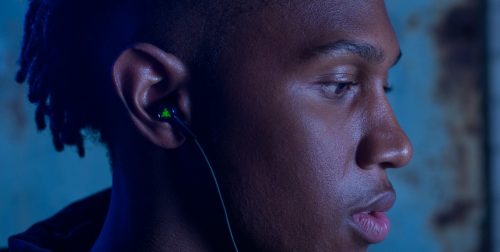 It has stellar audio quality through its Dual Driver technology featuring a combination of balanced armature and dynamic drivers to deliver a perfect balance of deep bass and detailed trebles. A built-in digital to audio converter (DAC) provides 24 bit/96 kHz audio quality for clear, uncompressed sound.
The headset is also fitted with Comply™ Foam Tips for maximum comfort, a secure in-ear fit, and enhanced noise isolation. This combination provides for an immersive sound stage, free from distraction, wherever you go.
Completing the package is an inline control and microphone, as well as a solid aluminum frame with braided cables for tangle-free management.
"The Razer Raiju Mobile and Hammerhead USB-C ANC further deliver on our vision of providing the ultimate mobile entertainment experience" said Min-Liang Tan, Razer co-founder and CEO. "You no longer need to be at home to experience movies, music and gaming, in all its glory."
RAZER RAIJU MOBILE DETAILS
Pricing
US$149.99 / €149.99
Availability
• Worldwide – Q4, 2018
Technical Specifications
• 4 multi-function buttons
• Mecha-Tactile action buttons
• Trigger stops for quick-firing action
• Adjustable phone mount – up to 60 degree tilt
• Mobile app for Android
• Up to 23 hours of battery life on a single charge
• Approximate size: 125 mm / 4.92 in. (Length) x 159.4 mm / 6.27 in. (Width) x 66 mm / 2.60 in. (Height)
• Approximate weight (without cable): 306 g / 0.67 lbs
System Requirements:
• Android 6.0 and above
• Windows® 7 and above
*Compatible with phones running Android 6.0 and above such as Razer Phone 2, Razer Phone, Huawei P20 Pro, Google Pixel 2  XL, Samsung Galaxy S9, Samsung Galaxy S9+, Samsung Galaxy Note 9, Samsung Galaxy S7, LG  G7+  ThinQ, Xiaomi Mi 8, Xiaomi Black Shark, Vivo Nex S, HTC  U12+, Oppo Find X, OnePlus 6 and many more.
RAZER HAMMERHEAD USB-C ANC DETAILS
Pricing
US$99.99 / €99.99
Availability
• Worldwide – Q4, 2018
Technical Specifications
• Headphones
o Frequency Response: 20 Hz – 20 KHz
o Impedance: 32Ω ± 15%
o Sensitivity: 110 ± 3dB (Max SPL)
o Input Power: 10 mW / 20 mW
o Drivers: Dynamic + Balanced Armature
o Connector: USB-C Connector
o Cable Length: 1.2 m
o Approximate Weight: 21 g
• Microphone
o Frequency Response: 100 Hz -10 KHz
o Pick Up Pattern: Omni-directional
o Signal to Noise Ratio: ≥58dB
o Sensitivity: -40 ± 3dB
• In-line Remote
o Volume Controls: Volume Up / Down
o Center Control: Play/Pause Accept/End Call
o Center Switch: ANC On/Off
• Compatibility
o Handphones with USB-C Connectors