BANDAI NAMCO Entertainment Inc. announced the pre-registration forALICIZATION Rising Steel which is the first RPG style Sword Art Online mobile game coming to iOS/Android later this year. Pre register by following the official Facebook fan page today and earn in-game prizes, with more prizes added as the pre registration numbers grow!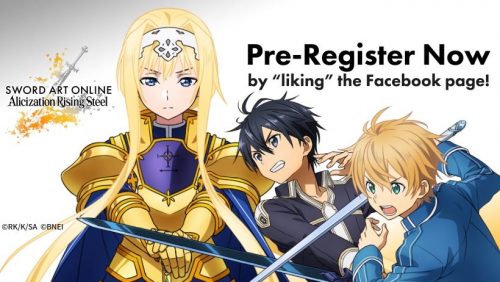 In ALICIZATION Rising Steel players battle within an Anime-style combat game, featuring characters and enemies familiar to those with the Sword Art Online series. ALICIZATION Rising Steel combines stories from the original series with exclusive content, to create a unique experience from the ALICIZATION story arc. Featuring easy and intuitive game play, including special "sword skill" moves activated by simply tapping the smartphone screen – which possess the spirit of anime-like motion battles. The new original scenarios, adding on from the Anime and Light novel, have been approved by series creator Reki Kawahara!
ALICIZATION Rising Steel will also be the very first Sword Art Online game localised in Spanish, German and French.
Join the Sword Art Online ALICIZATION Rising Steel official Facebook Fanpage to find exclusive ALICIZATION Rising Steel content.
Pre-register the game simply by following the official Facebook Fanpage at: https://www.facebook.com/SAO.risingsteel