The eternal night grows ever darker in Light a Way, as the Halloween spirit creeps into this fairytale-like idle clicker!
As the Guardian of Light who is tasked with lighting up the world, you can channel your own magic by dressing up as a witch, or wrap yourself in the cursed bandages of a mummy to scare away your shadowy enemies! Last year's Halloween outfit has also been resurrected from the dead, with the glowing jack-o-lantern head and haunted house dress now available again for players who missed it the first time around.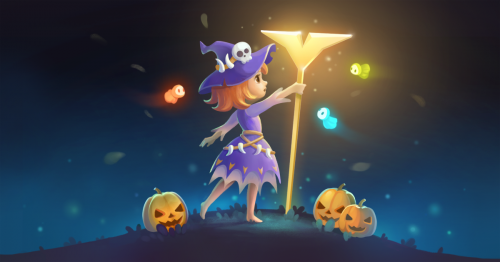 Apart from the Halloween goodies, players can also see improvements to the guild system. Global guild rankings now allow you to see how well your guild is doing compared to others. Turtie levels add more damage, allowing you to take down Tartarus faster!
Dressing up isn't limited to just Halloween either, as this update introduces a brand new seasonal dress crafting system! A new outfit will be introduced every week, where you can craft it to immediately gain three outfit levels, providing a powerful boost to your wardrobe. If you miss the first week, you will still be able to craft the outfit without the level bonus for one more week before it goes out of season. Stick around for long enough, though, and you may see it cycle back in again. We're opening the seasonal shop with a swashbuckling pirate outfit, so make sure you snag it in time for Halloween!
Let's party and light up the night with your spooky new outfits. Play Light a Way now!
Download Light a Way now on Google Play:
https://play.google.com/store/apps/details?id=com.appxplore.lightaway
Download Light a Way now on the App Store:
https://apps.apple.com/us/app/light-a-way/id1228576904