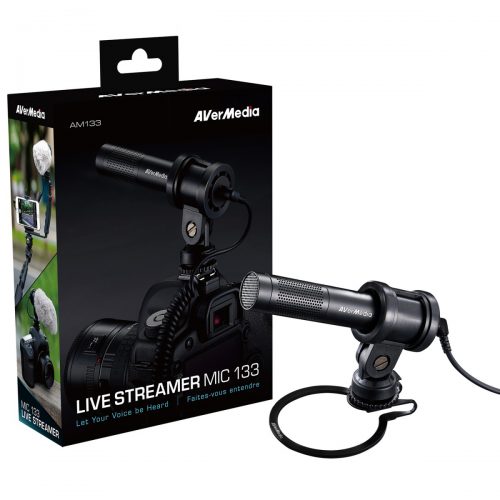 AVerMedia Technologies, Inc announced it is launching the Live Streamer MIC 133, the latest entry in its LIVE STREAMER line of premium live streaming products. Available with a suggested MSRP of $69.99, the MIC 133 provides high-quality 20Hz – 16KHz audio in a compact, highly versatile package that excels for use with cameras, laptops, and mobile devices, and the included accessories extend its functionality. Indoors or out, for voice recording or vocals, in quiet or loud environments, with or without headphone monitoring—whatever the circumstances, the Live Streamer MIC 133 won't let users down. This is incredibly important for "IRL" live streaming where anything can (and often does) happen without a script.
The Live Streamer MIC 133 package includes the AM133 unidirectional cardioid condenser microphone that can be connected to a smartphone or laptop via 3.5mm jack or mounted on a camera via its built-in camera shoe mount. The lightweight mic weighs just over a single ounce and is sensitive (-37 dB ±3 dB) and quiet (60 db S/N ratio), yet able to withstand high noise levels (maximum SPL of 110 dB), enabling it to record anything from a whisper to a loud concert with fidelity and minimal artifacts and noise. The unidirectional mic pattern is optimized to capture the speaker's voice while rejecting audio from the sides and rear. This keeps the focus on the live streamer, ideal for live broadcasters, content creators, and vloggers.
The compact carrying bag (included) holds the included mic, shock mount, metal stand for tabletop use, furry windscreen to reduce wind noise, 3.5mm audio cable, plus the included 4-pole to 3-pole 3.5 mm Audio Adapter Cable that allows the mic and analog headphones to be simultaneously connected to a smartphone for monitoring recordings and the live signal without unplugging the mic. With everything included in the case, content creators can grab their bag and go, knowing they have what they need in every recording situation.
The Live Streamer MIC 133 is compatible with smartphones, cameras, and computer devices through the 3.5 mm audio-in jack. It also works great on a wide range of smart devices across Android, iOS, and Windows systems, and complements the rest of AVerMedia's Live Streamer line of high quality streaming accessories as part of the company's complete solution for content creators.
Product Details
Type: Condenser microphone
Directivity: Unidirectional
Output: 3.5 mm jack
Impedance: 1.5 KΩ
Sensitivity: -37 dB ±3 dB at 1 kHz (0 dB = 1V/P)
Frequency Response: 20 Hz — 16 kHz
S/N Ratio: 60 dB
Maximum SPL: 110 dB
Dimensions with Stand (W x D x H): 70 x 83.3 x 132.25 mm (2.75 x 3.28 x 5.2 in)
Weight: 80 g (2.82 oz) with stand | 30 g (1.06 oz) without stand
System Requirements: Compatible with smartphones, camera, and computer devices with a 3.5mm audio-in jack
MSRP: US$69.99
The Live Streamer MIC 133 is available at retailers including Amazon.