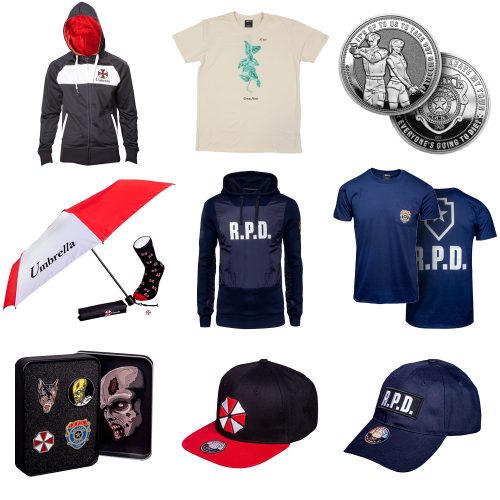 The Merchoid office was unexpectedly attacked by zombies. Many have been injured. Even more were killed. During the attack, our communications equipment was destroyed and we no longer have contact with the outside…except through this message.
Currently we have our best officer on the job. Armed with the RPD Premium Hoodie, Leon should be easily recognizable in a crowd of the undead. Whether it's for cosplay or protective reasons, we recommend equipping this also. Its thick dual layers should defend you against lighter zombie attacks.
The Official Police Business RPD Cap and Team Building Exercise RPD Pocket T-Shirt are also designed to make you easily distinguishable as protectors of the peace. Their high quality construction and classic styling will be a symbol of hope for other survivors.
For quick recovery, we recommend wearing the Time To Mix It Up Green Herb T-Shirt. Full details on the nature of this can be found on the back. Mix this with a red herb for a boosted effect.
Intel states that Umbrella have moles within the RPD so be on the lookout. They are most likely wearing an Over The Counter Umbrella Corp. Cap. They may also have recently acquired a Loyalty Bonus Umbrella Corp. Gift Set (which contains an auto umbrella, printed socks, and a collectable pin) along with One Ugly Mug, which has heat changing properties revealing a zombified face. Some members have also been found with a Pinned Down Collectable Badge Set containing four themed pins in a presentation box.
During this dire state of affairs, we urge you to remain vigilant and apprehend any individuals affiliated with Umbrella. Please exercise extreme caution around the streets of Raccoon City as the outbreak has now reached a critical stage. We desperately await your assistance. You are our only hope.