Reigniting a fan-favorite collaboration, GungHo Online Entertainment  announced the return of beloved role-playing game (RPG) series, FINAL FANTASY®,  to its mobile gaming phenomenon, Puzzle & Dragons. From August 5 through August 18, brand new characters will be available to players, as well as every character from the four previous collaborations.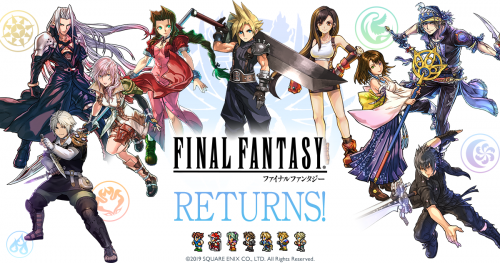 Alongside ultra-popular returning characters like Cloud and Sephiroth, fan-favorites Aerith from FINAL FANTASY VII and Thancred from FINAL FANTASY XIV will make their first appearances in Puzzle & Dragons. They'll have their work cut out for them, as FINAL FANTASY XII's big bad boss, Yiazmat, is waiting for them at the end of the 3-Player Multiplayer Dungeon.
Additionally, returning dungeons will feature "4 players or less" floors, giving players the opportunity to earn a Pixelit, an Evo Material that can transform certain collected FINAL FANTASY characters into their pixel forms via Pixel Evolution. The historic bosses players encounter in FINAL FANTASY and FINAL FANTASY 2 dungeons can drop collaboration-exclusive medals, which can be collected and exchanged for FINAL FANTASY VI's very own Locke in the Monster Exchange. Glauca from the FINAL FANTASY XV franchise will be available in the MP Shop during the collaboration.
Two new Gift Dungeons will also be available for one week each. The first, Fat Chocobo™'s, will reward players with a Fat Chocobo for completion and will run from August 5 through August 11. Starting August 12, Gift from Moogle's Gift Dungeon   will be made available, giving players a shot at a Moogle until August 18.
Finally, as always, players participating in the FINAL FANTASY collaboration will receive one free pull from the FINAL FANTASY Memorial Egg Machine, just for coming along on the ride!
Please find the full details of the FINAL FANTASY Collab below:
FINAL FANTASY Egg Machine:
★6
Aerith (NEW!)
Cloud
Sephiroth
Yuna
Cecil
Lightning
Tifa
Noctis
Balthier
★5
Thancred (NEW!)
Squall
Rinoa
Zidane
Tidus
Bartz
Terra
Shantotto
Vaan
Y'shtola
Onion Knight
Yda
Prompto
★4
Vivi
Ace
Aemo
Wol
Rain
Auron
Penelo
Reynn & Lann
Puzzle & Dragons is a mobile gaming phenomenon that continues to see tremendous growth, featuring an addictive combination of puzzle, dungeon-crawling, and monster-collecting gameplay. In the game, players capture, collect and evolve thousands of elemental monsters while incorporating quick thinking to chain combos and maximize the abilities and skills of their monsters. To date, Puzzle & Dragons has surpassed 80 million downloads worldwide and can be downloaded from the App Store, Google Play, and Amazon Appstore.