CAPCOM Co., Ltd, Japan brings an amazing product for all the Biohazard / Resident Evil RE:2 fans in collaboration with Blowback Co., Ltd. Osaka, Japan. This Soft Armor Vest appears to be worn by Leon S. Kennedy, the well-known character as a police officer of R.P.D. department in the famous game Resident Evil RE:2.  Each Limited-edition vest will come with a serial number in a special box.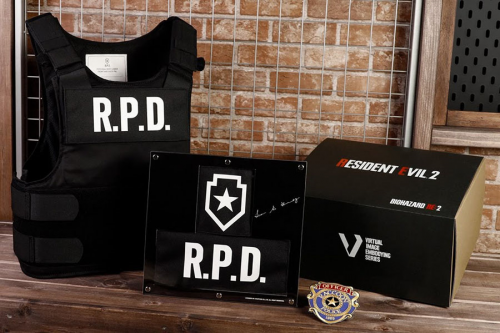 The whole package of this full replica vest is provided with Leon S. Kennedy's autographed frame set that includes:
R.P.D. Emblem x 1
Large R.P.D. Patch x 2
R.P.D. Police Officer Patch x 1
This is the First-run Gear Series introduced/released completely under the supervision of Capcom R&D Department. Capcom, with the intention to create in-game items into perfect replicas and making them available to all the fans, started a new project called [VIES] =「Virtual Image Embodying Series」, which means virtual image embodiment. Capcom, in collaboration with Blowback Co., Ltd, then produce the "R.P.D. Soft Armor Vest" as the first installment of VIES.
Using 3D data of Leon's costume, which was created as the character CG in the game production, the armor is made to be the exact same as the one that appears in the game. Due to the sewing techniques which enabled it to the strength we aimed, you can even wear it during Airsoft play, and not just for cosplay. Since we committed to recreate even fine details, we consider it to be the most elaborate replica in the world.
Now, you please take it in your hands and explore right away. Please enjoy the world of BIOHAZARD as much as you want. The world of games that can be touched, that is the essence of "VIES".
Product Name :
 Resident Evil RE:2 Leon S. Kennedy RPD Soft Armor Vest Replica
Size:
 Free Size (M-XL)
Specifications:
Vest body:
Outer fabric: 100% Cotton.
Inner fabric: 100% Polyester