Introducing the SupaBoy SFC from Hyperkin: The popular retro handheld is back with improved tech and a new colour combo that's sure to delight European fans!
Hyperkin's SupaBoy S was revered for liberating retro-gaming from the living room. Powerful but portable – it allowed you to take your SNES cartridges on the road, on the train or wherever you pleased!
Now, packed with features to make portable gaming as pleasurable as it is easy – the new SupaBoy SFC launches at a time when reliving those SNES classics is more popular than ever.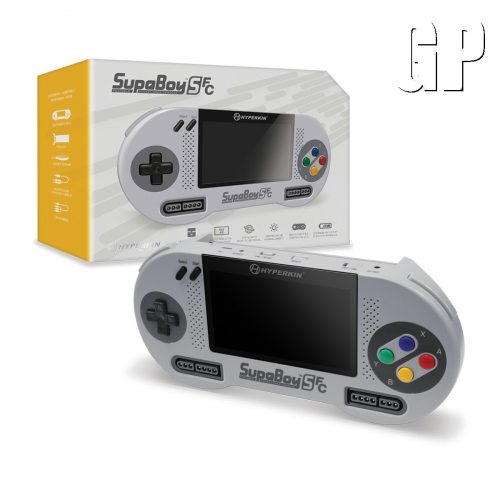 Retro gaming on the go…
The SupaBoy SFC lets you take your favourite games with you, without sacrificing gameplay quality. A crisp 4.3 inch screen displays your games with clarity, while adjustable brightness means playing will be comfortable in any light. Holding down the brightness button also lets you switch between 4:3 and 16:9 aspect ratio.
Stereo sound can be pumped through the front-facing speakers or via the 3.5mm headphone jack. For longer trips the console's Lithium-ion battery will keep you playing for 10 hours and is rechargeable via the included Micro-USB cable.
…or at home!
Switch owners aren't the only ones who get to play great Nintendo games in the palm of their hands and on the big screen.
The SupaBoy SFC includes two front-loading controller ports (for original SNES-compatible controllers) and an AV output. These features combine to allow two players to unleash multiplayer chaos on the big screen TV!
New Pin Perfect™ Technology
The SupaBoy SFC will happily play SNES (NTSC/PAL) and SFC cartridges. For reading those cartridges Hyperkin have managed to incorporate their new Pin Perfect™ technology into this handheld device.
Also found in their latest home consoles, these state-of-the-art pins have been engineered by Hyperkin to set a new standard in high quality pins. Providing a sturdy connection between console and cartridge, Pin Perfect™ technology ensures gameplay isn't interrupted even if you shake or bump the machine – perfect for gaming on-the-move!
Full Features List
4.3 inch screen
Stereo sound with 3.5 mm headphone jack
Adjustable brightness button
Switch between 4:3 and 16:9 aspect ratio
Rechargeable Li-Ion battery with 10 hours of battery life
Hyperkin-engineered Pin Perfect™ (Patent Pending) technology
The SupaBoy SFC is available at Amazon