Introducing the SupaRetroN HD: Hyperkin's latest console not only sports a classic retro look – it's packed with tech to make playing your favourite SNES games more enjoyable than ever!
The Super Nintendo Entertainment System – the best-selling console of the 16-bit era! And when you're looking for the reason why, you don't need to look very far beyond an extensive library of thrilling games.
Hyperkin's SupaRetroN HD is a new console dedicated to taking those games to the next level via top quality hardware and a vibrant HD output. Dust off those cartridges and feel the exhilaration of Nintendo's greatest hits once again – it's never been easier or more worthwhile!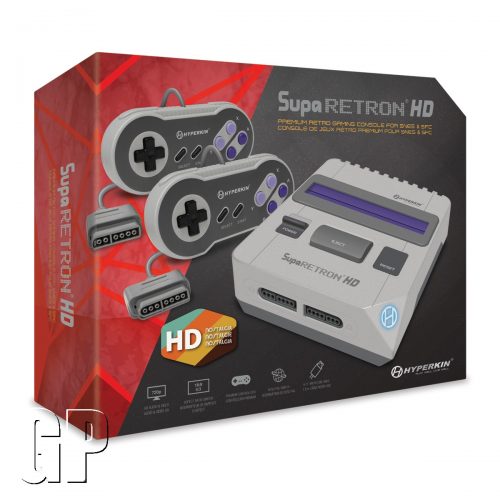 Tech that loves your cartridges as much as you do.
Hyperkin knows how much time, money and effort retro gamers put into building their game collection. The SupaRetroN HD has been built in a way that looks after your favourite SNES cartridges, while making the games themselves visually stunning.
Central to this philosophy is new Pin Perfect™ technology. These new state-of-the-art pins have been engineered in-house by Hyperkin and maintain perfect pin contact, even if you bump or shake the cartridge! The presence of these high quality pins alongside a special cartridge eject button means you can swap cartridges with confidence all day long.
Once slotted in, the SupaRetroN HD's HD output will display your games with incredible clarity – letting you experience those great SNES titles like never before.
Micro-USB input & 6ft charge cable.
720p HD Output for crisp, clear gameplay.
Easy-access Aspect Ratio Switch. 
Includes 2 x Premium "Scout" Wired Controllers
Gamers have long been snapping up Hyperkin's "Scout" premium controllers due to their classic look, solid build and comfortable ergonomic design.
The SupaRetroN HD comes complete with two, while original controllers are also supported.
Full Features List
• Plays both SNES and SFC Cartridges
• HD Audio and Video: Crisp 720p HD
• Two premium controllers – The Scout – with 8ft cables
• Pin Perfect™ high-quality pins your cartridges deserve
• Cartridge Eject Button allows you to swap games quickly and easily
• HD Output and AV Output
• Supports 4:3 and 16:9 aspect ratios
• 6ft Micro-USB charge cable
The SupaRetroN HD will be released on March 9, 2018 and is available to pre-order now from Amazon.