Super NES Classic Edition system is hitting stores at a suggested retail price of $79.99. The system comes with 21 pre-installed Super NES™ games, many of which are considered some of the greatest video games of all time. All-time classics like Super Mario World™, The Legend of Zelda™: A Link to the Past™, Super Metroid™, FINAL FANTASY III and Donkey Kong Country™ are on the same mini system as Star Fox™ 2, which has never been released before!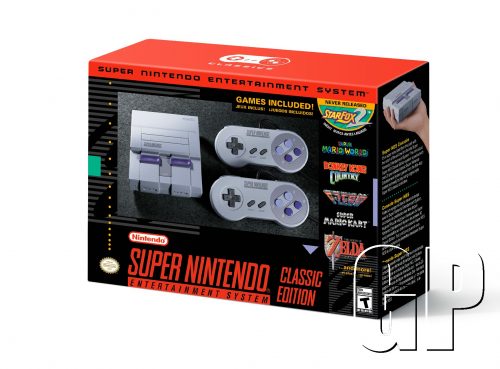 "Super NES Classic Edition is perfect for any Nintendo fan, retro gamer or anyone who just wants to play some really fun video games," said Doug Bowser, Nintendo of America's Senior Vice President of Sales and Marketing. "And at a reasonable price, the system will be a great addition to any holiday shopping list."

Super Nintendo Entertainment System: Super NES Classic Edition has the same look and feel of the original system – only smaller – and comes pre-installed with 21 games:
Contra III: The Alien Wars™
Donkey Kong Country™
EarthBound™
Final Fantasy III
F-ZERO™
Kirby Super Star™
Kirby's Dream Course™
The Legend of Zelda™: A Link to the Past™
Mega Man® X
Secret of Mana
Star Fox™
Star Fox™ 2
Street Fighter® II Turbo: Hyper Fighting
Super Castlevania IV™
Super Ghouls 'n Ghosts®
Super Mario Kart™
Super Mario RPG: Legend of the Seven Stars™
Super Mario World™
Super Metroid™
Super Punch-Out!!™
Yoshi's Island™
Given this stellar lineup, the most difficult aspect of the system will be deciding which one of these games to play first. Each and every one is a classic, and they cover so many different genres. Fans of fighting games, action-adventure games, platformers and massive RPGs all have something to get excited about. And with Star Fox 2, which has never been released outside of this collection, even the most die-hard and dedicated Nintendo fans will have something to play for the first time.
While playing all these retro games is nostalgic and fun, Super NES Classic Edition comes with some modern conveniences that enhance the overall game-play experience. By using the easy-to-use Rewind feature, you can replay challenging sections by rewinding about a minute or more based on the type of game and your last suspend point. (Up to four suspend points can be saved for each game.) To add a little visual flair, you can even wrap a cool border around your game with the new Frame feature. Some of the frames change color based on the game being played.
Included with Super NES Classic Edition are one HDMI cable, one USB charging cable with AC adapter and two wired Super NES Classic controllers, perfect for playing multiplayer games. Some of the games with multiplayer options include Street Fighter II Turbo: Hyper Fighting, Super Mario Kart, Contra III: The Alien Wars and Secret of Mana.
While Super NES Classic Edition is sure to be a hot commodity, Nintendo will ship more units of the system on launch day in the U.S. than were shipped of the NES Classic Edition™ system all last year, with subsequent shipments arriving in stores regularly. Nintendo also plans to ship the retro-inspired product into 2018.