Thrustmaster announced the upcoming release of three new accessories designed for those players looking to optimize their race sim set ups and expand their gaming experience.
Taking advantage of the latest in e-WRC, Thrustmaster is expanding its ecosystem to provide the ultimate experience for players in search of perfection with the release of the 'TM Racing Clamp' on August 20th and the 'TSS Handbrake Sparco Mod +' and 'TM Sim Hub' on September 20th.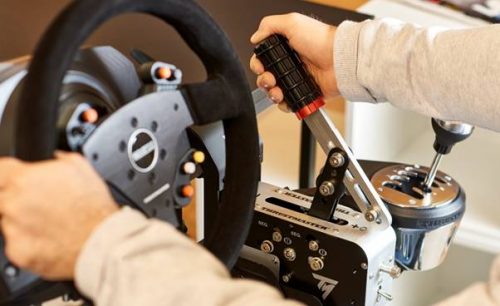 TSS Handbrake Sparco Mod +
You asked for a handbrake that's playable with console games* and now here it is: the TSS Handbrake Sparco Mod +. This new device is PC-compatible with every racing wheel on the market and the major "+", and new feature of this TSS handbrake, is its console compatibility:
For PS4™* with the T-GT and T300-Series Thrustmaster racing wheels
For Xbox One* with the TS-XW RACER and TX-Series Thrustmaster racing wheels
This has only been made possible through the development of a proprietary cable needed to enable communication with console.
This new product will also take advantage of the previous model's features, including of course Thrustmaster H.E.A.R.T. technology and high-quality aluminum materials.
Through a collaboration between Thrustmaster and Sparco, there are now two modes available providing the best possible level of control during even the most intense races:
Progressive handbrake mode
Sequential transmission mode
Box contents:
Progressive handbrake/sequential transmission
Removable knob
Mini Allen wrench
Allen wrench
Open-end wrench
Removable DIN/USB cable
Removable proprietary mini-DIN/DIN cable
Horizontal mode add-on
User guide and warranty information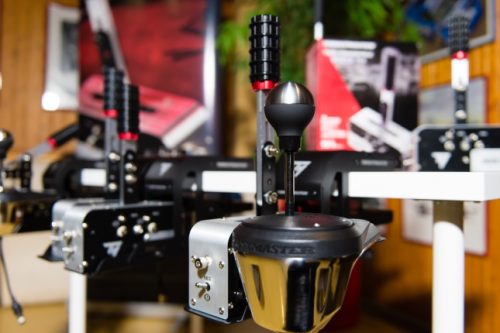 TM Racing Clamp
The TM Racing Clamp is a truly robust and practical solution that allows for optimal installation and easy use of the TSS Handbrake Sparco Mod, TSS Handbrake Sparco Mod + and TH8A, even without a cockpit!
Designed for desks or tables that are between 0.6"/15 mm to 2"/50 mm thick, you can adjust your equipment according to your driving style to create a fully immersive driving experience.
The TM Racing Clamp works equally well for left-hand or right-hand drive configurations depending on the position of the TH8A and TSS Handbrake Sparco: change the height, depth or inclination for greater playing comfort to maximize your performance.
This 100% metal accessory is simple to install (quick fastening with two screws) and will optimize your gaming experience while ensuring safety and stability.
Box contents:
TM Racing Clamp attachment system
Side-support for TH8A shifter
Set of screws and washers
Allen wrench
User guide and warranty information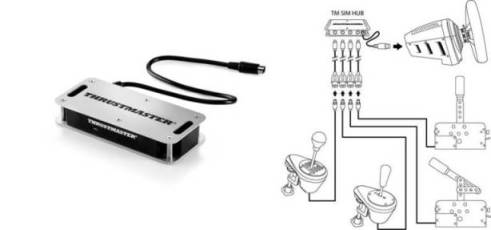 TM Sim Hub
With the arrival of the TM Sim Hub, Thrustmaster pushes the boundaries of console setup creation by allowing players to combine the TSS Handbrake series, TH8A and future ecosystem add-ons for PS4™ and Xbox One®.
Designed to allow the highest performance hardware combos in rally or GT, the TM Sim Hub can connect up to 4 Thrustmaster add-ons simultaneously on compatible Thrustmaster racing wheel bases***.
Please note that this accessory will only be available in the Thrustmaster online store for £44.99.
Box contents:
TM Sim Hub
User guide and warranty information
Compatible with available game configurations.
** H.E.A.R.T. (HallEffect AccuRate Technology) technology is covered by U.S. Patent # US08471815.
Press contact: prt@thrustmaster.com
*** List of PS4™ and Xbox One® games compatible with handbrakes available at Thrustmaster.