The Trust GXT 830-RW Avonn offers gamers a full-size layout gaming keyboard with 12 multimedia keys. It completes any gaming set-up with its vivid colors and the rainbow wave illumination guides players to ensure the right key is always hit.
The keyboards full-size layout means that it is optimally designed for fast key entry. The GXT 830-RW also features anti-ghosting technology ensuring fast and accurate gaming and enables users to remain in control even when pressing up to 6 keys simultaneously. Ideal when playing MMO or FPS games which involves complicated keyboard commands and requires pressing of multiple keys at the same time. Specifically made to make gaming as easy and enjoyable as possible, the Trust GXT 820-RW Avonn makes every move and action played through the keyboard count.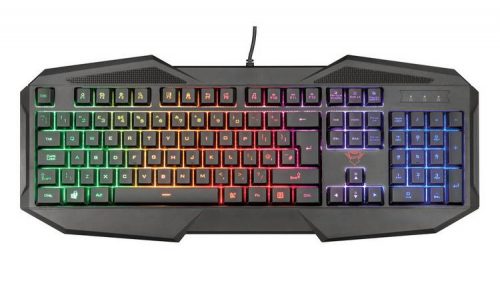 The Avonn's 12 direct access media keys make it possible to control music or the LED lighting of the keyboard. The LED lights are adjustable in brightness making the GXT 830-RW also perfect for gaming in darker environments or according to preference. Gamers can even play and pause music, start a search or change pages directly with the keys on the keyboard. The special game mode switch ensures that users will not return to the desktop accidentally when hitting the Windows key since it is disabled during those intense gaming sessions.
It is made to plug and play: simply plug in the USB in the computer, and within a few seconds it is fully ready for play. No drivers, CDs or extra software needed.
Key features
Full size layout
Rainbow Wave illumination with adjustable brightness
Anti-Ghosting: Up to 6 simultaneous key pressings
Direct access media keys
Game mode switch; directly disable windows key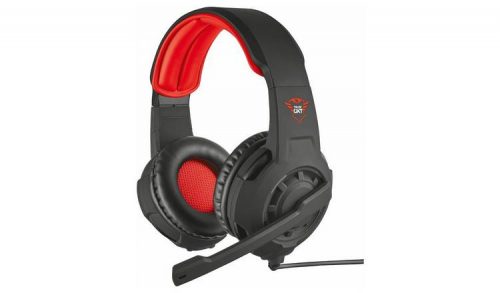 The Trust GXT 310 Radius Gaming Headset is a gateway into the roaring realm of gaming. This headset features sharp surround sound so players will always be a step ahead and able to fully immerse into the gameplay. So, whether connecting via a headset to a PC, laptop or console, resounding victories are now possible!
The Radius headset will release every player's full potential and produces a powerful sound thanks to its 40mm speakers which will completely pull users into the game. Connect the headset via the 1m aux cable to a PS4, Xbox One or Switch or lengthen the cable with the 1m extension cable for a comfortable connection with your PC or laptop.
The GX310 Radius headset also allows players to talk with teammates as if all in the same room. The clear sound of the adjustable microphone ensures clear communication will lead to victory and the soft and comfortable over-ear pads combined with the adjustable microphone and headband give gamers the comfort they need for those prolonged gaming sessions. The fun and competition can truly begin.
Key features
Powerful sound
Soft and comfortable over-ear pads
Adjustable microphone and headband
1m fixed cable and 50cm extension cable for console
1m adapter cable for PC/Laptop