Zynga Inc. is launching an event series in partnership with the hyper sports car manufacturer Bugatti in the hit mobile drag racing game, CSR Racing 2 (CSR2). The event series, which celebrates Bugatti's 110th anniversary, will give players the opportunity to collect and compete with the world's most powerful and exclusive hyper sports cars in CSR2.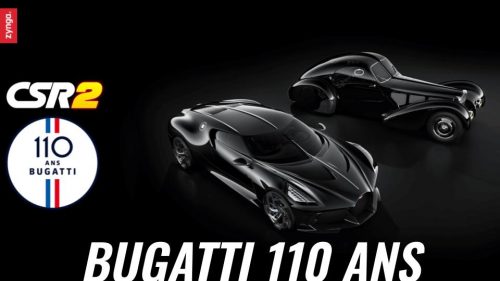 The series showcases 24 different Bugatti cars, three of which are available exclusively in CSR2. Players can view the cars in augmented reality, giving them the experience of sitting in the driver's seats of the most desirable hyper sports cars ever designed. The integration has seven different events over an eight-week period, and will be highlighted in a continued beta version of CSR2's new player-versus-player feature, Showdown.
CSR2 Bugatti Exclusives:
Chiron Super Sport 300: the first series production car to break the magical 300 miles per hour barrier
La Voiture Noire: a one-off one grand tourisme masterpiece
Centodieci: the newly released homage to the original modern-day super sports car, EB110

Every aspect of the 24 Bugatti cars, from the grills to the paint color, dashboard finish and stitching, has been meticulously recreated in CSR2 to mirror the real hyper sports cars. Players can explore the cars by tapping special points to trigger handcrafted, bespoke animations, allowing them to open doors, pop the hoods, inspect the engine bays, extend the spoilers and more.

CSR2 is available to download for free on the App Store as well as the Google Play Store.