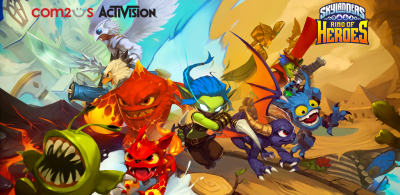 Com2uS launched Skylanders™ Ring of Heroes across 120 different countries around the globe. The game is available for download now through the Google Play Store and Apple App Store.
Skylanders Ring of Heroes is a mobile RPG developed by Com2uS based of the Skylanders franchise from Activision. Players will dive into the world as Portal Masters, the guardians of Skylands, and set out on an adventure to track down the villain Kaos and retrieve the stolen Book of Dark Magic.
Play through the ten-part story, control your favourite characters, challenge yourself in dungeons, or fight your way to the top in global PVP.
Strategize your tactics by unlocking and upgrading a wide range of character elements and skill combinations.
Brand new to the series, Skylanders™ fans will be able to see the 'awakened' forms of their favourite Skylanders.
Skylanders™ Ring of Heroes launched an early access build in Australia, Canada, and New Zealand. Thanks to feedback from those players we have made improvements to the game in preparation for the global launch.
Players who have pre-registered will receive a Soul Stone that allows them to summon one of the most popular Skylanders among fans, Spyro.
The Vice president of GAMEVIL COM2US USA, Casey Lee commented, "We're really excited to see how Skylanders™ Ring of Heroes will perform in western markets, as the IP is already well-established there. We'll certainly do our best to provide Skylanders Fans and mobile RPG fans with a fun RPG experience so that you can bring your favorite Skylanders Squad into your mobile device."