The music vault has been cracked open… Laced Records, in partnership with Gearbox Software, proudly presents Borderlands 3 (Original Soundtrack) on vinyl; as well as all the Borderlands series soundtracks on major digital music platforms. 
There are two vinyl editions of the Borderlands 3 OST: fans can choose between the 17-track double LP package with two audiophiles' heavyweight 180g discs (one Solid Red, the other Solid White) housed in a deluxe gatefold sleeve; or the 34-track Special Edition boasting four 180g discs (in light blue, dark green, red, and purple) each with a spined sleeve, all housed in a rigid board outer slipcase.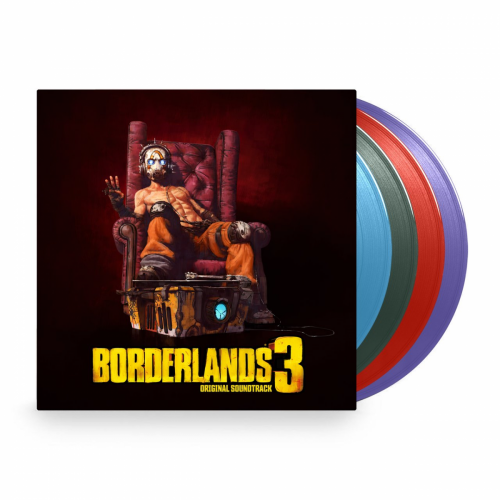 Both 4x LP and 2x vinyl sets are available to pre-order via www.lacedrecords.com ( lacedrecords.co outside of the USA) and will ship in January 2020.
Currently, the Special Edition 4xLP is exclusive to Laced Records store – Price: GBP £70 / USD $80

Deluxe Double Vinyl – Price: GBP £33 / USD $35
The music is a richly atmospheric fusion of ambient, blues, dubstep, electronica, and more, created by a seasoned composition team including Jesper Kyd (Assassin's Creed, Hitman), Michael McCann (Deus Ex: Human Revolution, XCOM: Enemy Unknown), Finishing Move Inc (Crackdown 3, Halo Wars 2), Raison Varner (Borderlands series), Julian Peterson, and Mike Jones (Penn & Teller Musical Director). Every track has been remastered specifically for this release by Joe Caithness. Sleeve artwork is in collaboration with Gearbox's Borderlands 3 art team.
In addition, the soundtracks to Borderlands, Borderlands 2 (and all DLC), Borderlands The Pre-Sequel/Claptastic Voyage, and Borderlands 3 are now available to stream and buy on all major music platforms including Spotify, Apple Music, Amazon, and iTunes.
About Borderlands
From the minds at Gearbox Software, Borderlands is the critically acclaimed shooter-looter franchise that started it all, combining intense first-person shooter gameplay with extensive role-playing progression in an exhilarating and irreverent four-player cooperative experience. Each iteration of the series features new player characters (known as Vault Hunters) with customizable skills, as well as diverse, imaginative environments filled with unique missions and enemies. Borderlands also boats literally bazillions of guns, grenades, and loot thanks to its sophisticated weapon generation system – aside from unique Legendary items, no two weapons are exactly alike!