Publisher and mobile game developer FourThirtyThree Inc. (4:33) celebrates this Halloween by introducing new spooky Halloween theme and added a couple of exciting new contents in their mobile sports game Boxing Star.
This update includes new seasonal Halloween theme. The new theme includes spooky background, new costumes and NPC (Non-Player Character) zombification.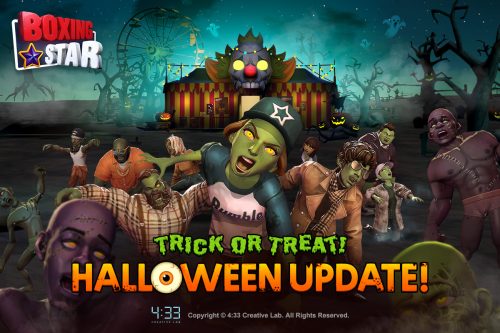 First, the background of K.O. mode changed into spooky Halloween theme. Along with the background, NPCs in K.O. mode have changed into zombies and behaves like the undead. In addition, Boxing Star provides exclusive Halloween theme background in Super Rich for all players who logged in during the event.
Furthermore, 16 new Halloween theme costumes are now available. New costumes include zombie hunters, Halloween tattoos, pumpkin heads and zombie skin. These new costumes are also event exclusive and can be found in Halloween Costume Bags and Zombie Skin Bags.
Along with the Halloween theme, Boxing Star introduced two new contents Global Achievement and Costume Collection System. Global Achievement is a set of missions for all global users. The first player who accomplishes the mission can engrave their nickname on the achievement and unlocks reward for all other users. Missions and following rewards will continuously reveal.
Costume Collection System is another newly added content, encouraging users to collect costumes and costume points to unlock character abilities. The abilities include attack power, attack speed, recovery, and more. Users can get more rewards according to the number of costumes collected.
Boxing Star opens Halloween Mission Event in celebration of this Halloween. During the event, users can accomplish missions and exchange them to rewards including season exclusive Clown Costume.
You can find the details of the update at Official Boxing Star Facebook Page.
About Boxing Star
Boxing Star is a mobile sports game featuring intense boxing matches with intuitive and easy controls. The game provides an immersive Story Mode and Multiplayer League where players can knockout their opponents. Players can also personalize their fighting style with various skill combinations and equipment. As evidence of Boxing Star's immense global popularity, it surpassed 10 million downloads in just 98 days.