Endless Quest is available on the Apple app store and Google Play store.
Endless Quest is a single player roguelike roleplaying game that allows up to four characters to embark upon a story that will take them to the shadows of the Evermore Mountains where a great evil is stretching across the land.
In true roguelike fashion, Endless Quest is a turn-based game featuring procedurally generated area, random quests and permanent death for those who fail in their adventuring. A robust multi-classing system allows players to create the character of their choosing.  The strategic-style mission system offers a tabletop experience with limited healing and a greater emphasis on survival.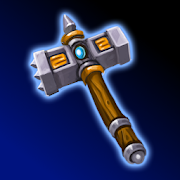 Endless Quest puts choice into the very fabric of the adventure, allowing characters to choose between saving a city or going off in hunt of treasure, and when combined with random side quests and multiple 'end game' bosses, provides a unique experience each time through.
Endless Quest on the App Store: https://apps.apple.com/us/app/endless-quest-rpg/id1478132464
Endless Quest on the Google Play store: https://play.google.com/store/apps/details?id=com.nationssoftware.EndlessQuest