Rogue Games released Sociable Soccer, exclusive to Apple's new Apple Arcade game subscription service on the App Store. Sociable Soccer can be played cross-platform on across iPhone, iPad, iPod touch, Mac and Apple TV. Sociable Soccer is available through the service as part of the $4.99 USD monthly fee.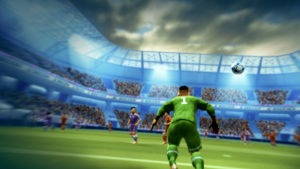 Developed by Tower Studios in conjunction with Combo Breaker and Rogue Games,
Social Soccer
is a fast-paced take on soccer that's both intuitive and in-depth. The game enables players to fully control or manage a soccer team against other players online or in the same room. Having designed soccer games for more than thirty years, including
Microprose Soccer
for Commodore 64 and the award-winning
Sensible Soccer
for console and later mobile, Tower Studios' Jon Hare wanted to create a soccer game that's quick to jump into but with enough detail and depth that it takes time to master.
Sociable Soccer Key Features: Sociable Soccer is ultra-flexible and accessible, offering something for everyone.
60 frames-per-second console-quality arcade-style soccer gameplay
Fast, intuitive gameplay accessible through customizable touchscreen controls or MFi controller compatibility
Supports 25,000 collectible, upgradable player cards based on real-world players and 1,000 international clubs.
Control an entire team or manage the team and watch the action
Multiple game modes include persistent online Seasonal League System, a 67-tournament (60+-hour World tour) single-player campaign and ad hoc competitions.
Head-to-head online and offline/local matches; devices can be linked locally
High-quality devices like the iPad Pro can be hooked up via Bluetooth controllers and HDMI cables for a big-screen console experience
Dominate the ranking tables and represent the club you love.
The presentation is light and fun with sports depth for people who want it.
From the designer of the legendary 'Sensible Soccer' series, enjoyed by 20 million gamers.
Sociable Soccer is available on Apple Arcade on the App Store on devices running iOS 13.