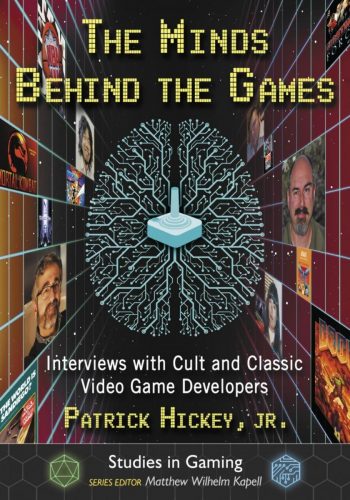 Book contains over 50 interviews with some of the greatest minds in the video game industry, interviewed by Award-Winning journalist and former NBC Editor and Examiner National Video Games scribe Patrick Hickey Jr.
Who wrote "Romeo & Juliet? Who first sang "Thriller"? Who played Captain America in the last Avengers flick? All of these questions are basic pop culture knowledge that everyone, regardless of their geekdom, knows. But who are the minds behind some of the most influential video games of all-time? Don't know, right? Don't use Google, either!
But here's the bigger question: Why aren't their names enshrined in our memories, too? Why aren't these men and women's names just as synonymous in pop culture lore as those in music, film and literature?
"The Minds Behind the Games: Interviews with Cult and Classic Game Developers" is the first video game book of its kind to get access to some of the most iconic and unique video game developers from the past 40 years, from the Atari 2600 to the PlayStation 4 and even failed consoles the likes of the Ouya and NEMO.
Didn't know those consoles existed? It's just another reason to read this behind the scenes look at the industry, which also features all-new exclusive interviews with everyone from Yars' Revenge creator Howard Scott Warshaw to NBA Jam mastermind Mark Turmell and Mortal Combat co-creator John Tobias.
Written by award-winning journalist and educator Patrick Hickey Jr., the book contains profiles of 36 of the coolest video games ever created.
"We know so much about video games, but we know so little about the amazing people that made them," Hickey said. "That was the main reason I decided to write this book. Imagine 36 episodes of VH1's Behind the Music. That's what this book is- an unaltered, behind-the-scenes look at some of the coolest, infamous and unique games ever made."
Seeing a problem that desperately needed to fixed, Hickey reached out to some of the most iconic video game developers David Crane (Pitfall), Garry Kitchen (Donkey Kong) and Rob Fulop (Night Trap, Missile Command) and many more- the end result was a passion project that would finally give the greatest minds in video games their due.
"We all carry such fond nostalgia for the things that delighted us in our younger years," Fulop said. "This lack of portability to the future is not true with the written work, with a song, a television show, or a movie. One can read Tom Sawyer as a kid, and your kid can read the exact same book. Or see the Wizard of Oz, my daughter is just as frightened by the Wicked Witch of the West as I was 50 years ago. I Love Lucy is just as funny as when my parents enjoyed it 50 plus years ago. And my daughter can still enjoy all of these things in their original form.  Yet she can't play Dogz. At least not without a serious amount of effort on my part. And that's just sort of sad, the fact that interactive entertainment is linked to a specific technology, which is always obsoleting itself, remains an often overlooked black mark in the development of the entire genre of interactive games."
However, while classic developers have their say in the book, developers from the modern era were thrilled to be a part of the project as well.
"It's great to be part of a book that taps into such a varied history of gaming. Some of these games have been a direct influence on me and can be used to map my years growing up in life." –Mike Skupa, Developer Bully, Sleeping Dogs
"The Minds Behind the Games: Interviews with Cult and Classic Game Developers" is now available at Target, Walmart, Amazon, Barnes and Noble and where ever fine books are sold.
Additional Praise for 'The Minds Behind the Games':
"Fantastic. One-part serious journalism and another part a love letter to the gaming industry."-Anthony Frisina, Author, The Regulator
"This book will make your inner gamer do the time 8-32-bit warp again and again."-Chris Butera, Editor-In-Chief, Bonesaw Online Magazine, former WWE.com writer
"NHLPA 93 was the first game I owned for the Sega Genesis and I played it nonstop for a month. I truly believe my favorite player as a kid was Jeremy Roenick simply because of this game. Patrick does a terrific job encapsulating the history, emotion and drama of the early days of this series." –Arda Ocal, MSG Networks
"From arcade rats to indie developers, Hickey gives an intimate look at the personalities behind gaming with the passion of a fanboy and the attention of a scholar." – Cesar R. Bustamante Jr., Digital Producer and Book Reviewer, New York Daily News
I love the WWF WrestleMania: The Arcade Game chapter, which perfectly captures the aura surrounding that title — its development and release during such a transitionary phase for Wrestling — and how it smartly serves as a fun and exemplary reminder of the game's uniqueness in being a fighting game at heart, hybridized … and stylized with mystical, whimsical gimmick-specific elements effectively creating a "game for everyone," during a time when that was an impossible task.- Extreme Championship Wrestling Legend Joel Gertner
"The Minds Behind the Games" reads like personal voiceover for a 30-for-30 documentary on every classic video game discussed in the book. This is a must-read for classic gaming fans and anyone interested in learning about the thought process of gaming developers..- Brian Mazique, Forbes