Scarlet Moon Records has made available the Sparklite (Original Game Soundtrack) a full week ahead of the game's release. The adventure-filled score by Dale North (Wizard of Legend, Nintendo Minute, The Long Return) features a GameCube-style sound that listeners will immediately fall in love with. Prepare to get the nostalgia flowing across grasslands, deserts, poisonous bogs and hidden caverns over the course of nearly 40 minutes of breathtaking music. A digital booklet is available from Bandcamp and Apple Music packed with artwork, a composer interview, liner notes, and track-by-track commentary. A physical edition of the game and soundtrack are also available from Signature Edition.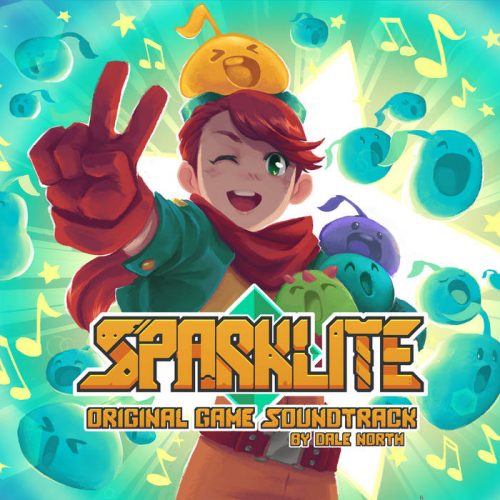 The Sparklite (Original Game Soundtrack) is available now wherever digital music is sold:
Sparklite (Original Game Soundtrack) on All Storefronts
"I was immediately taken with Sparklite," reflects composer Dale North. "Seeing and playing it was like a sharp reminder of the things I dreamed of doing when I was a kid. The adventure games from those days had the best soundtracks, but not for any technical reason. They were the best at setting the stage, making you feel a certain way, and getting stuck in your head. That's immediately what I imagined when I first saw Sparklite. It felt and still feels like a once-in-a-lifetime opportunity to set something like this to music and I'll always be grateful to the team at Red Blue Games. If you ever end up feeling anything like I did when I played the adventure games of my childhood I'll feel like I at least got part of the way toward that goal."
Sparklite releases on Windows PC, Mac, and consoles on November 14, 2019 along with the stunning physical Signature Edition
About Dale North
Dale North is a composer, arranger, and orchestrator for videogames, based in the San Diego. As a multi-instrumentalist (piano, vocal, brass), performer, and singer-songwriter with an international training, he brings a unique voice to videogame music.
Dale's music mixes traditional instrumentation with vintage colors, blending live pianos and orchestral tones with the synthesizers and sound sets that shaped the sounds of games from the Super Nintendo and PlayStation eras. His upbringing in Tokyo, Japan helped shape his melodic sense (and his love of synthesizers), and he continues to hold the traditions of game music in the highest regard.
Dale looks forward to working on projects that favor creativity and seek to honor game music's rich heritage.
He also really, really likes Welsh Corgis.
Dale North is represented by Scarlet Moon Artists.
Learn more: http://www.dalenorthmusic.com