The galactic war for control of the universe gets extra spooky for Halloween in AxE: ALLIANCE VS EMPIRE (AxE), the fantasy massively multiplayer online role-playing game (MMORPG) from NEXON Corporation. Mobile players worldwide can dive into one of the game's largest content updates yet for free on the App Store and Google Play.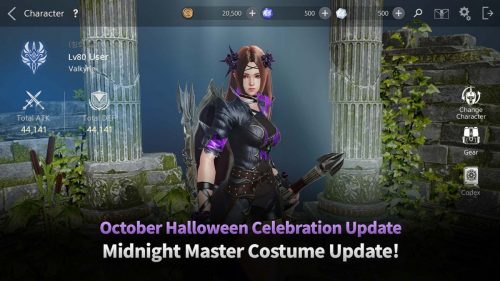 Since the game's hit launch earlier this year, AxE has delivered innovative MMORPG gameplay and an explorable open-world in the palms of mobile players' hands. To celebrate the upcoming Halloween holiday, AxE earns several new features, including:
Halloween Event Dungeon – In this haunted event dungeon, players can test their merits by collecting pumpkins to exchange for limited-time event costumes from the shop. In addition to the power boosts, the event costume contains an EXP buff for Daily Quests and Area Requests
Lucky Shiny Costumes – Players are now treated to increased chances of unlocking rare shiny costumes. All costumes and the Shedim's Favor Artifact are available at a special discounted rate of 20% off
Diamond Mileage Event – Participating players who consume Blue and White Diamonds will receive bonus rewards including Enhancement Guard Tickets and Pet Summon Scrolls
In addition to the fresh Halloween content, AxE also receives several permanent additions, including:
Costume Wardrobe System – For the first time ever, players can now dress their characters in their favorite costumes without losing the stats on current outfits. Costumes can easily be changed through new Wardrobe slots
Gear Enhancement Expansion – The maximum gear enhancement level has been increased to 30, where when reached will activate a special enhancement effect
New Friends and Outfits – The adorable pet hedgehog can now accompany players on adventures, along with the beautiful new Midnight Master Costume series
AxE offers immersive MMORPG battles in a magical world rich with memorable allies, diverse locations and daunting quests. Players are invited to join a guild and engage in all-out epic battle with friends and challengers around the world in single-player, tactical faction combat and large-scale competitive modes inspired by the best MMOs on PC and console. AxE offers six highly customizable character classes, along with an intricate weapon, armor and ability upgrade system for diverse play styles.
AxE: ALLIANCE VS EMPIRE is available for iOS and Android users worldwide. Visit the official AxE website here