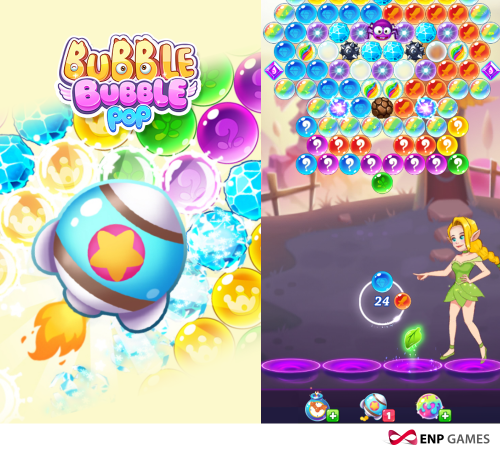 ENP GAMES that the bubble shooting game, 'Bubble Bubble Pop' has been globally launched in 144 countries for Android.
'Bubble Bubble Pop' is a bubble shooting game with cute little fairy characters to enjoy the various maps with. As a game where users progress by connecting 3 of the same colored bubbles to complete each stage, the players can experience over 400 vivid stages.
The players can combine a variety of skills to activate even more powerful skills. They can even use items to display a variety of effects to create fancier plays and experience an adventure that is even more exciting. Also, one of the key characteristics of 'Bubble Bubble Pop' is that it can be enjoyed any time and anywhere due to its simple controls.
The bubble shooting game, 'Bubble Bubble Pop' is totally free. People have been looking forward to the game due to its colorful bubbles, cute fairy characters, and of course the diverse stages, which does not give users the time to be bored.
According to the team leader of the casual games division of ENP GAMES, Kim Gyeong Mok, "Bubble Bubble Pop can be easily enjoyed by everyone without feeling pressure." and he continued, "With cute little fairies in the game, not only do they provide fun, but also allows the game to be pleasing to the eyes. So please look forward to our game and we will try our best to provide more games that you, your family, and friends can all enjoy.." he said.