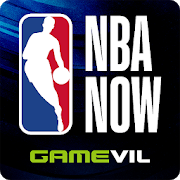 Mobile games publisher and developer GAMEVIL today announced the launch of the new basketball game, NBA NOW. The game challenges players to step into the role of general manager to build a customised team with their favourite NBA stars and compete in an NBA season with the goal of winning a championship. NBA NOW is available globally in the Google Play Store and Apple App Store.
Sporting an intuitive vertical-screen one-touch gameplay system with simplistic controls that aims to appeal to a broader audience on mobile. NBA NOW offers a wide variety of game modes and features players, team uniforms and courts, as well as real-time NBA stats that are reflected in player ratings throughout the season.
NBA NOW is available in up to 10 different languages including English, Korean, French and Spanish.