Scarlet Moon Records is pleased to present WIZARD OF LEGEND (The Complete Soundtrack) and Piano Collections WIZARD OF LEGEND. Celebrating yesterday's release of the Thundering Keep DLC, The Complete Soundtrack composed by Dale North includes all the music fans have come to know and love in addition to the previously unreleased Sky Palace DLC trailer music and the electrifying Thundering Keep stage theme and trailer.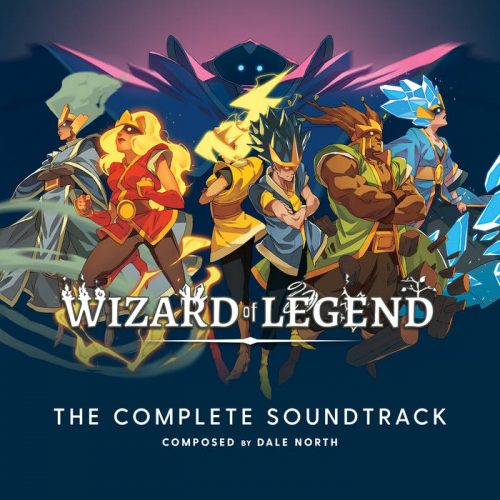 Both WIZARD OF LEGEND (The Compelte Soundtrack) and Piano Collections WIZARD OF LEGEND are available on Bandcamp with other storefronts:
"While I had a good feeling early on, I didn't really know that the music I was writing would be for a smash hit videogame!" reflects composer Dale North. "So it has been a pleasure to be able to continue to contribute music to
WIZARD OF LEGEND
over the past year since the initial launch and now I'm just as thrilled to be able to share them in a complete album. Just as the new dungeons and bosses have expanded the game's world, I hope these new pieces add more depth and enjoyment to players and listeners alike."
Piano Collections WIZARD OF LEGEND features 11 all-new piano performances by AYAKI (Etrian Odyssey, PersonaQ, Prescription for Sleep: Game Music Lullabies), bringing his unique jazz-infused arrangements to the fast-paced action of WIZARD OF LEGEND. Also included is an original theme by AYAKI titled "Realizing One's Potential," which is inspired by a wizard's journey to prove themselves in the Chaos Trials.
"AYAKI's arrangements and performances of the WIZARD OF LEGEND soundtrack feel like a deep dive into the spirt of what I was going for when I originally composed it," explains North. "These powerful, interpretive pieces have a way of transporting you and I feel like anyone that has spent any time in the dungeons will feel that. It's rare to feel so heard and understood as a music maker anyway, but when it's coming from such a talented and accomplished musician it makes this so much more special."
About Dale North
Dale North is a composer, arranger, and orchestrator for videogames, based in the San Diego. As a multi-instrumentalist (piano, vocal, brass), performer, and singer-songwriter with an international training, he brings a unique voice to videogame music.
Dale's music mixes traditional instrumentation with vintage colors, blending live pianos and orchestral tones with the synthesizers and sound sets that shaped the sounds of games from the Super Nintendo and PlayStation eras. His upbringing in Tokyo, Japan helped shape his melodic sense (and his love of synthesizers), and he continues to hold the traditions of game music in the highest regard.