Materia Collective and Team Cherry are pleased to announce the official Hollow Knight Piano Collections album featuring music by Christopher Larkin arranged by David Peacock and performed by Augustine Mayuga Gonzales. The renowned score to one of the most acclaimed indie titles of  recent years is the perfect source material for these intimate piano arrangements, and fans will be pleased to know the album is available in digital, CD, and vinyl formats with sheet music.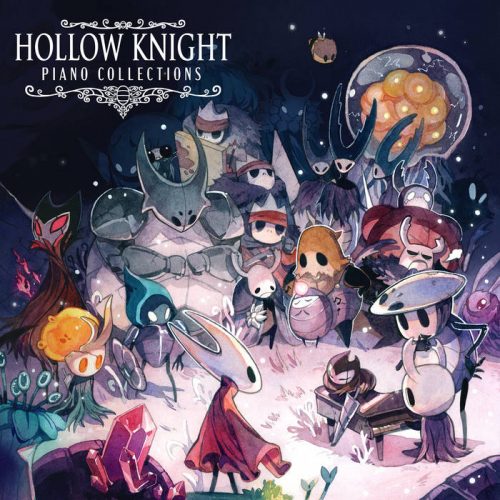 "Working on Hollow Knight Piano Collections has been a deeply rewarding experience," reflects arranger David Peacock. "My goal was to put together a selection of arrangements that both compliment the original material, and are expanded upon by the qualities and aesthetic of the piano performance. Enter the world of Hallownest as conveyed by my pianistic reinterpretation of Christopher Larkin's brilliant score."
The full track listing for Hollow Knight Piano Collections is as follows:
01. Dirtmouth
02. Crossroads
03. Greenpath
04. Hornet
05. Reflection
06. Mantis Lords
07. City of Tears
08. Resting Grounds
09. Dung Defender
10. Queen's Gardens
11.White Palace
12. Sealed Vessel
13. Radiance
14. Hollow Knight
15. Grimm Troupe
Hollow Knight Piano Collections Vinyl on Bandcamp
The limited edition CD and vinyl versions will be available via the Materia shop and on Bandcamp and will include beautiful artwork and illustrations by Nise, who previously illustrated Materia's Undertale Piano Collections. Physical CDs, vinyl, and sheet music books will begin shipping during the first quarter of 2020.
About David Peacock
David Peacock is a versatile musician with a wide range of tastes and skills. Growing up listening to film scores, he became interested in game soundtracks of the early 90's such as Final Fantasy and Chrono Trigger, and began learning these compositions on the piano. Having an interest in connecting with other musicians, David has performed in and arranged for orchestras and ensembles throughout his early years into his studies at Berklee College of Music, and enjoys making music with people from all over the world.
He has collaborated with pianist Augustine Mayuga Gonzales, Austin Wintory, Gareth Coker, writer/director Jaclyn Gramigna, Materia Collective, Disasterpeace, cellist Tina Guo, Video Games Live, Videri String Quartet, and WDR Funkhausorchester among others.